Back to Shop
Nichibutsu Shirt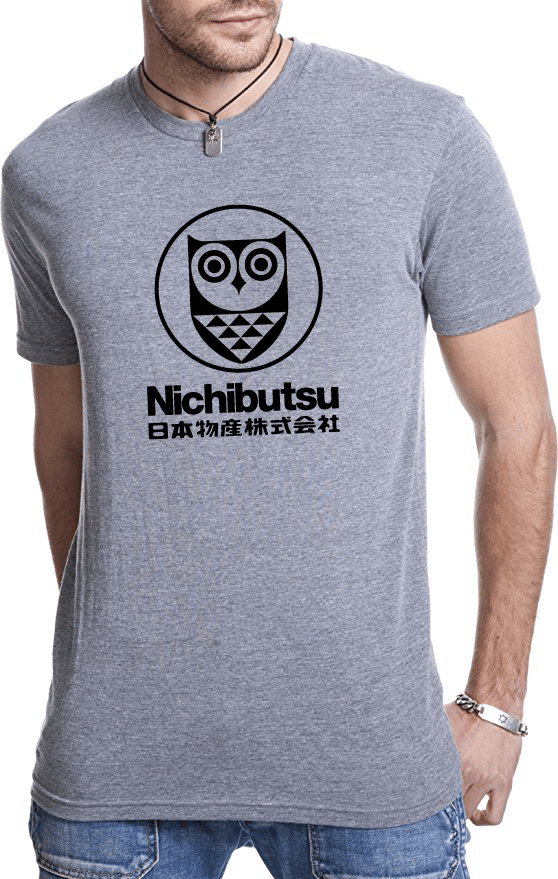 $

24.00
/ Sold out
Note: If you want black on gold, please state so in the order note. Tri-blend is not available in gold.
Black on heather grey screened design features the Nichibutsu iconic horned-owl logo complete with their holding company, Nihon Bussan Kabushikigaisya Japan Products Trading Company in Japanese underneath.
Shirts are printed on Next Level tri-blend tees. Athletic fit so they are a bit snug. Go a size up if you like them roomie. Also available on black on gold printed on a Next Level cotton crew, just leave a note with the order.
What the heck is Nichibutsu?!?
Nichibutsu is the video game brand of the manufacturer Nihon Bussan Company. This legendary company started out making arcade clones of popular bronze age titles Breakout, Circus, and Space Invaders. Not only did they copy Space Invaders with their release Moon Base, but the flyer used unauthorized images of Darth Vader, X-Wings and Tie Fighters!
Then in 1980 Nichibutsu released the Crazy Climber, and it became a smash hit. Inspired by the "human fly" craze of the 70s, the player assumes the role of a stunt performer ascending a skyscraper while avoiding closing windows and other obstacles. This quirky precursor to the platformer genre predates Donkey Kong's construction platforms by a year.
Serious gamers revere Nichibutsu Moon Cresta, but outside of Japan it never achieved the popularity of Crazy Climber. Also released in 1980, it was the evolutionary step between Galaxian and Galaga. A few years later Moon Cresta was followed by its sequel Terra Cresta. It's an Xevious inspired shoot 'em up with a neat li'l Battle of the Planets influence where the player's five ships combine to become a fiery phoenix. Nichibutsu continued to further produce sequels including: UFO Dangar Robo, Terra Force, and Terra Cresta II.
Frisky Tom is worth a mention. Released a year later, this commercial flop may have been too risque for western tastes. As the player advances in the game, bubbles subside revealing the breasts of the woman in the bathtub. Nowadays a dedicated Frisky Tom cabinet is hotly sought after by arcade collectors.
While having moderate success, Nichibutsu never again achieved the critical or commercial heights of its early arcade releases. By 2007 this once proud company ceased all game development, but they left behind quite the legacy.